Target is a great place to shop for clothes steamers, offering the major brands such as Rowenta, Conair, Salav and Steamfast just to name a few. Here is a roundup of the clothing steamers available at Target, including their pro's, cons and useful information about the steamer.
Please note: The links in this post contain affiliate links and I will receive a small commission if you make a purchase after clicking on my link.
Standing Steamers
A standing or upright garment steamer is a good choice if you like to have your steamer set up in your laundry room or bedroom, ready whenever you want to use it.
Alternatively, if you like to steam all your clothes in one go, the larger water capacity and steam output of standing steamers ensures you have enough steam to last, without having to constantly refill the water chamber.
Here's my overview of the standing steamers available at Target: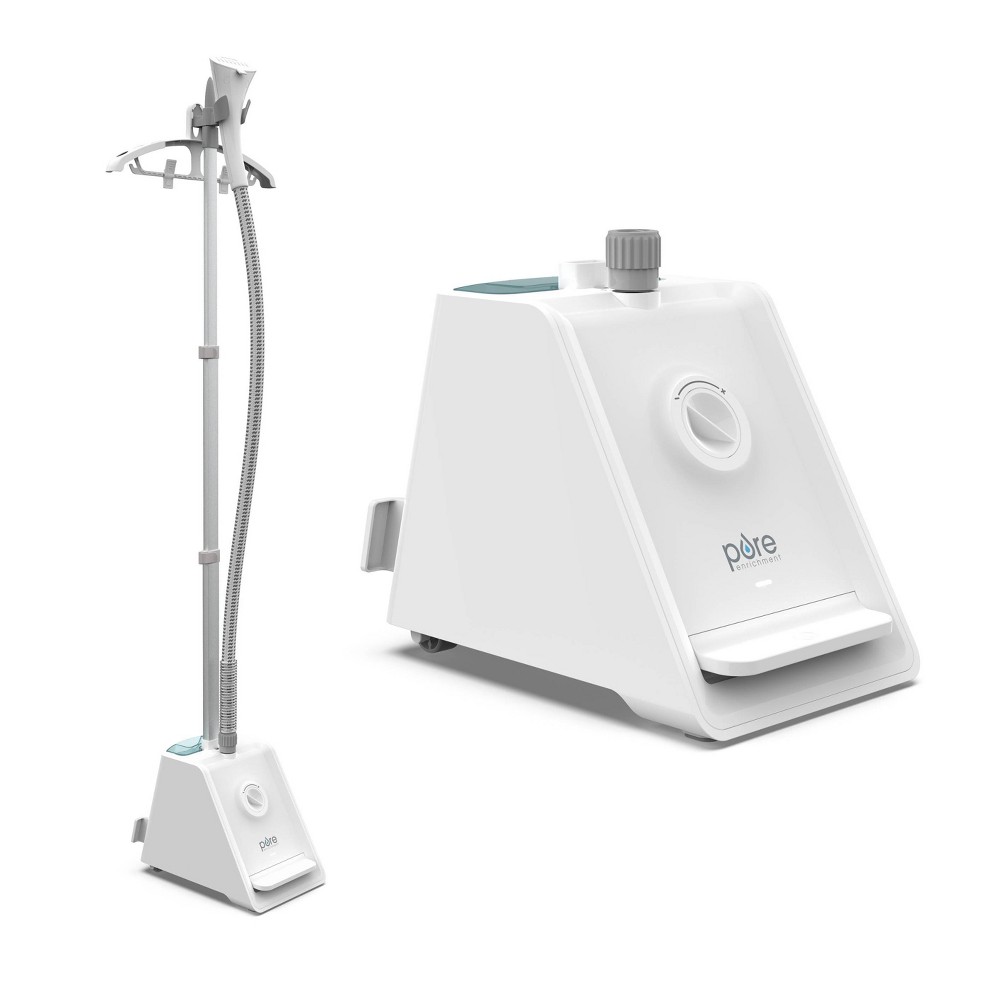 The Pure Enrichment PureSteam Pro has 1500 watts of power and 4 levels of steam. The steam settings are adjustable on the dial on the front and controlled by a thermostat. This ensures a consistent level of steam output at any setting.
Adjustable steam settings are a bonus, as you can alter the amount of steam output based on the type of garment you are steaming. For example, fabrics such as silk should be steamed on the lowest setting and fabrics such as denim on the highest setting. The steamer heats up in around 60 seconds.
The design is quite simple, which I find appealing. You can operate the steamer with a foot pedal to save you from bending over. The water tank is removable for easy refilling and holds around 67oz of water. The water tank is transparent, so you can see when water is running low.
A fabric brush is included and the Pure Enrichment steamer comes with a built in coat hanger with pant clips. This steamer is well built and also includes a 5 year warranty.
| | |
| --- | --- |
| PRO'S | CONS |
| 5 Year Warranty | Steaming Mitt Sold Separately |
| 4 Steam Settings | No wheels |
| Large Water Tank | No crease attachment |
| Adjustable Height | |
| Built in clothes hanger with trouser clips | |
Overall Impression of the Pure Enrichment PureSteam Pro:
I really can't pick any faults with the Pure Enrichment PureSteam Pro Garment Steamer. This is a quality steamer, that has excellent reviews and is backed by a 5 year warranty. This is my number one choice for steamers available at Target.
To learn more about Pure Enrichment Steamers, read my post where I have compared the 4 different models of pure enrichment steamers.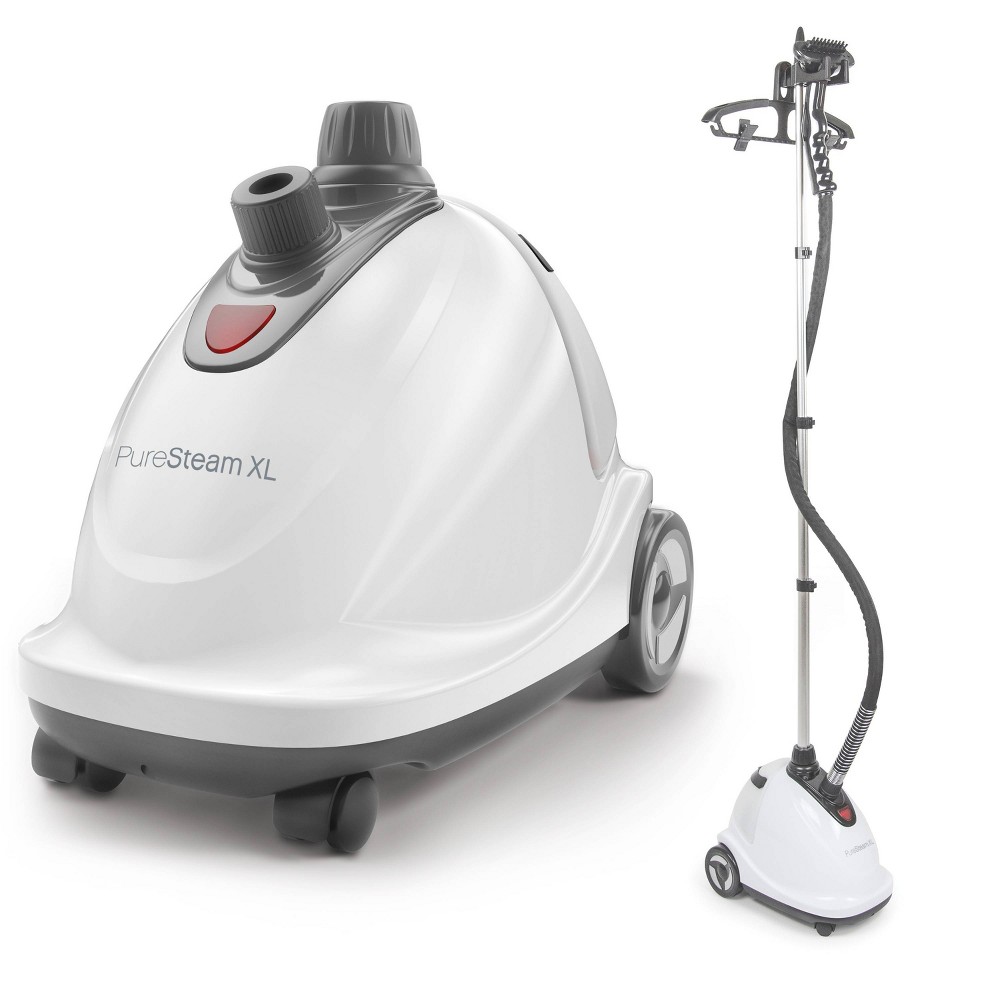 The Pure Enrichment XL Steamer is the model down from the Pro version featured above.
It has the same wattage as the pro garment steamer (1550 watts) and essentially should have the same amount of steam output. The differences are:
The XL steamer does not have adjustable steam settings. The volume of steam produced cannot change for different types of fabrics.
The XL steamer has wheels for mobility. There's pros and cons to the design of wheels. The pro being that you can wheel the fabric steamer from room to room without having to lift it. The con is there are castors on the front, but fixed wheels on the back. This means the steamer will only pull in one direction, rather than being able to swivel 360 degrees.
Warranty – The Pure Enrichment XL steamer has a 2 year warranty, compared to 5 years for the Pro version.
It comes with the same attachments as the Pure Enrichment Pro – this being a fabric brush and built in coat hanger with pant clips. This garment steamer also doesn't include a crease attachment, which would be my number one complaint about the Pure Enrichment Steamers. Creasing tools are really handy for sleeve and trouser leg creases. If you're not one to put defined creases in your clothing, then this shouldn't be much of an issue for you.
The water tank is around the same size as the pro garment steamer and will last you approximately 60 minutes of continuous steaming. It does have the potential to run out of water faster than the pro steamer, as it will steam continuously at the one setting.
This is where the adjustable steam settings of the pro garment steamer will be more beneficial, both for delicate fabrics that are best steamed on a lower steam setting, or items such as lace curtains which don't need a huge steam output.
| | |
| --- | --- |
| PRO'S | CONS |
| Wheels for mobility | No Crease Attachment |
| 2 Year Warranty | Steaming mitt sold separately |
| Built in clothes hanger with trouser clips | |
| Large Water Tank | |
Overall impression of the Pure Enrichment XL Steamer:
The Pure Enrichment XL Steamer is a great quality steamer for the budget conscious. If the Pure Enrichment Pro steamer is out of your budget, this is a good choice.
Personally, I prefer the adjustable steam settings and the added reassurance of a 5 year warranty of the pro steamer, for a little extra money.
There are 4 models of Pure Enrichment steamers, although not all are available at Target. To learn more, read my blog post on Pure Enrichment steamers where I review all 4 models.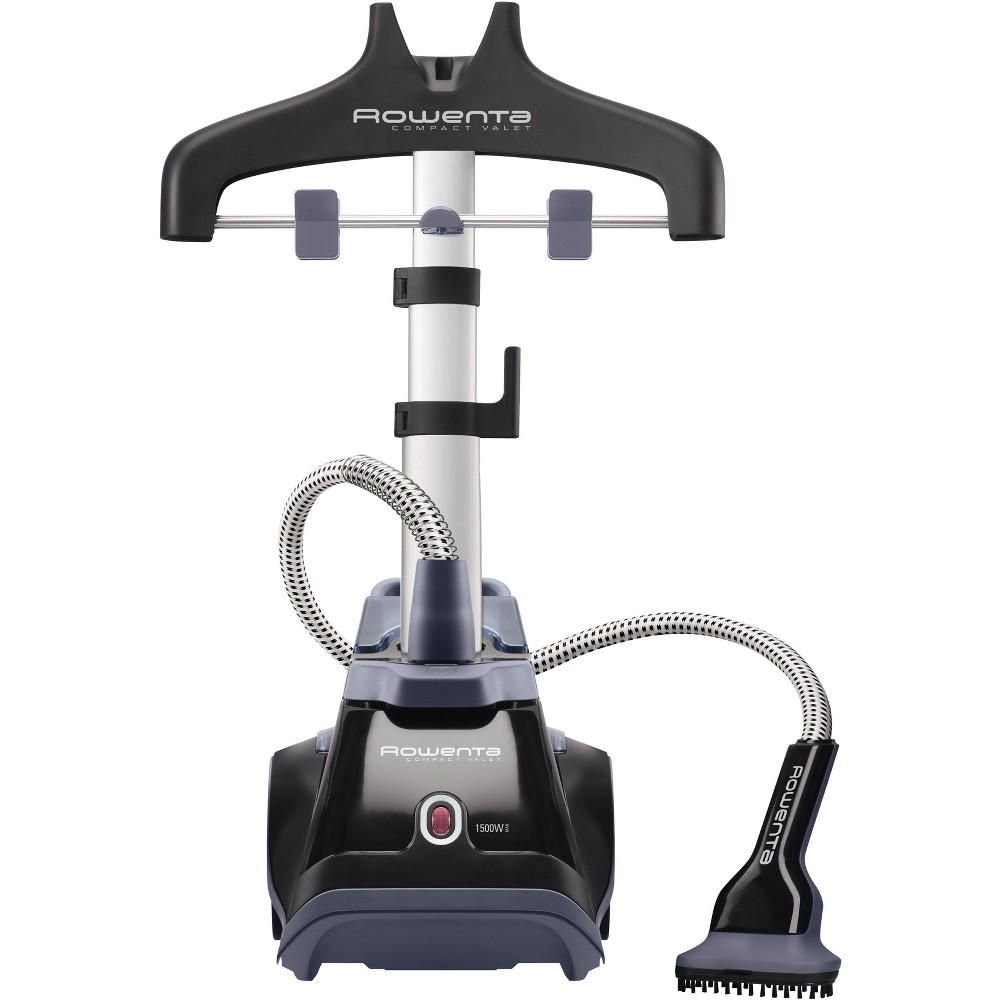 The Commercial Garment Steamer from Rowenta provides quick, efficient wrinkle removal for garments, drapes and upholstery, made easy with the large steam head.
This garment steamer heats up for use within 60 seconds and will steam for a full hour of continuous steam, and is very easy to store with its compact design.
The aluminum adjustable-height pole along with a built-in garment hanger exemplifies the ergonomic design for all-around efficient steaming, made even easier with the included fabric brush and crease tool.
| | |
| --- | --- |
| PRO'S | CONS |
| Removable Water Tank (holds 81oz) | One Steam Setting |
| Adjustable Height | Steaming Mitt Sold Separately |
| Includes Attachments (fabric brush/crease tool) | |
| Large Steam Head | |
| Has Wheels for Easy Mobility | |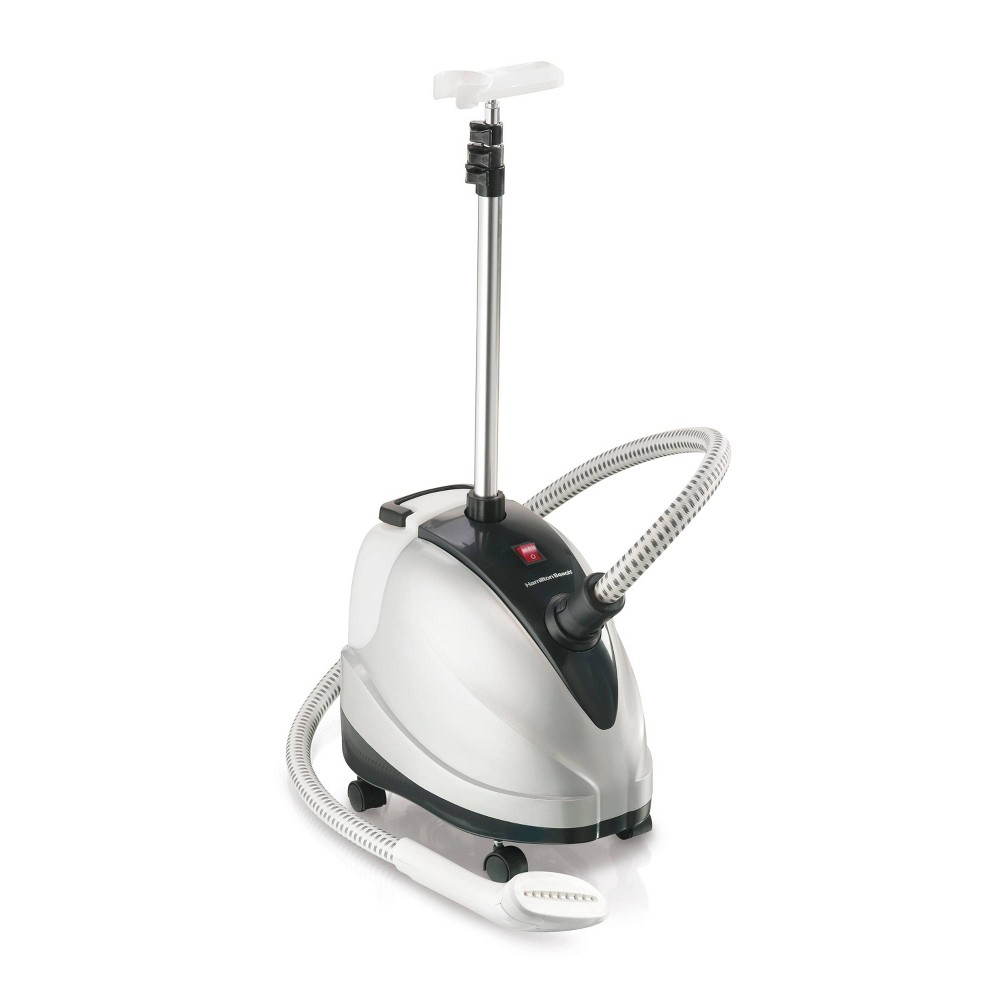 Hamilton Beach steamers have been around for quite some time. You can expect this steamer to heat up in approximately 60 seconds. It has an adjustable telescopic single pole, which I find easier to adjust than the double poles.
There's four small castors on the bottom of the Hamilton Beach steamer to roll the steamer around without having to tilt the steamer. Included with the steamer is a fabric brush and crease tool.
The water tank is removable for easy refilling, which Hamilton Beach promote it can be easily filled at the sink, and promote the use of tap water in your steamer. Here's a question I found on Amazon which explains exactly why you should never use tap water in your clothing steamer:
my steamer has begun leaking out of the back where the water goes in. I believe it is "calcified" (?) and jammed up, needed to be cleaned by a vinegar solution. However, I believe it may be so clogged that the solution may not make it through to work effectively! Any ideas? I bought it 14 months ago. Thanks!

Amazon.com/Hamilton-Beach-Full-Garment-Steamer
I've written a blog post on why you should never use tap water in your garment steamer. You can find it here.
Hamilton Beach don't ship outside the USA, so I haven't been able to test this garment steamer myself. I did a significant amount of research online on this steamer and found the reviews were mixed.
The biggest complaint was not enough steam being pushed out of the steam head, making the steamer less effective on more wrinkled garments, or fabrics other than cotton. Also, the telescopic pole and steamer hose could be taller and longer.
| | |
| --- | --- |
| PRO'S | CONS |
| Removable Water Tank | Lacks Steam Power |
| Castors for Mobility | Telescopic Pole & Steamer Hose not long enough |
| Includes Fabric Brush and Lint Brush | No online reviews found since 2015 |
| | Steaming Mitt sold separately |
Overall Impression of the Hamilton Beach Garment Steamer:
At first glance, I liked that this steamer could be moved around and included attachments. But unfortunately, that's the only positive things I have to say about this clothing steamer. I did a lot of online searching and sadly, couldn't find a recent review of the Hamilton Beach 1550 Steamer after 2015.
Given it's almost 2020 reviews from 2015 don't give me high hopes that this steamer has been updated or improved in any way. It worries me that Hamilton Beach suggest using tap water in their steamers, yet have no built in decalcification tools to remove the properties from the water that will knowingly damage the steamer.
Hamilton Beach suggest a monthly clean with a vinegar and water solution, but is this enough? Not in my opinion. It is for these reasons I would not purchase this garment steamer.
Handheld Garment Steamers at Target
If you live in a small space, or prefer to steam your clothing just before you wear it, a handheld garment steamer could be the best choice for you. I've taken a look at the handheld steamers available at Target: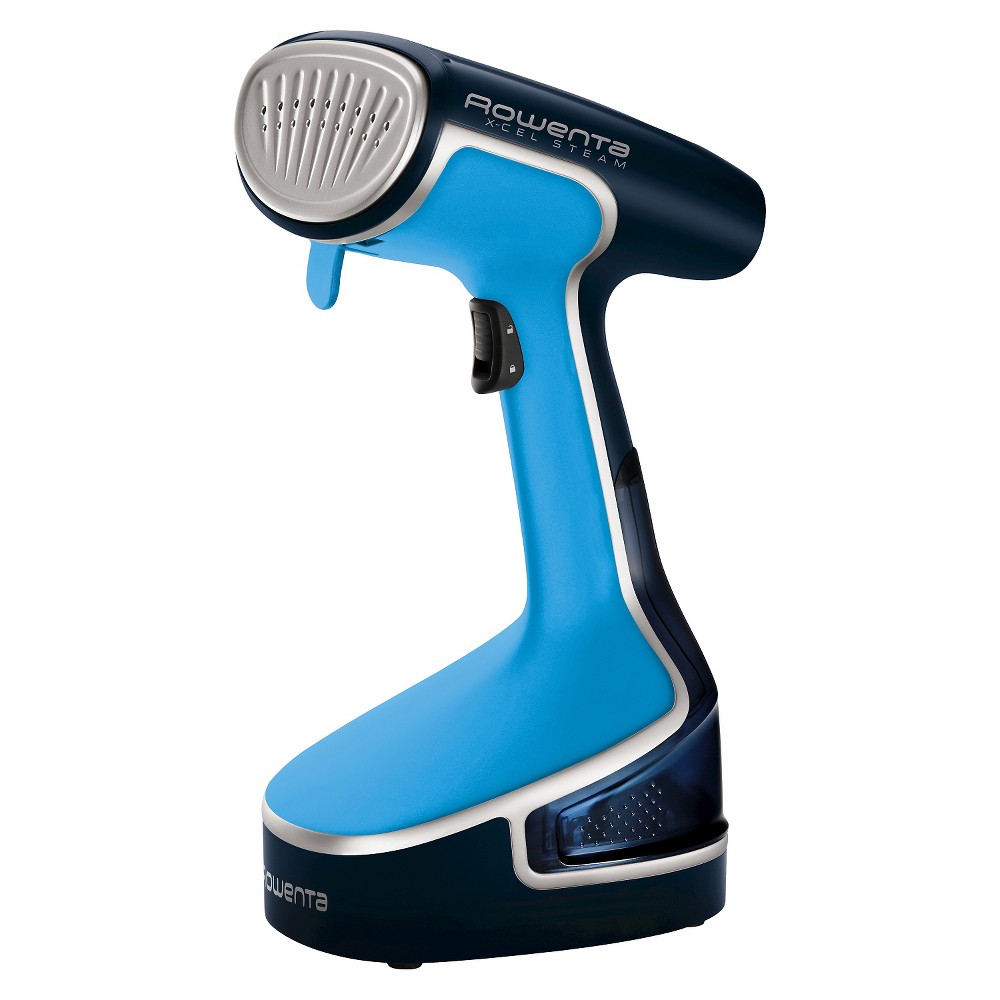 The Rowenta Xcel Steam (Model Number DR8050) handheld steamer is a powerful little clothing steamer. It offers 1500 watts of power, so it will output the same amount of steam as a full sized clothing steamer.
The flat bottom design is really practical – you can sit this handheld steamer down on the counter in between steaming items or when refilling the water tank and it will stay upright. As a handheld design, it is easier to use to steam curtains and drapes, or use on soft furnishings without having to move around a full size clothing steamer.
The Rowenta Xcel Steamer will provide approximately 10 minutes of continuous steam before you need to refill the water tank.
Warranty – Rowenta products purchased in the USA and Canada offer a 1 year warranty. Rowenta products purchased in the UK and Australia offer a 2 year warranty. You can find more information about Rowenta warranties on their website.
What the handheld steamers fail to show you in the images is you still have to plug them in to a wall socket or extension lead to make them work. The Rowenta Xcel Steamer has a 3 meter power cord, which is quite impressive for a handheld steamer.
| | |
| --- | --- |
| PRO'S | CONS |
| High level of steam output (comparable to a full sized clothing steamer) | Short warranty for USA & Canada |
| Well known brand | Steamer attachments (such as fabric brush) sold separately |
| Practical upright design | |
Overall impression of the Rowenta Handheld Steamer:
Rowenta is a well known brand and very popular for both irons and clothing steamers. I was a little disappointed to see discrepancies in warranties between countries and have written to Rowenta to clarify this. I'll update this post when I have more information about the warranty.
The price point for the Rowenta Xcel Steam is comparable to a base model full size steamer. Given the Rowenta steamer has the same steam output as a full sized home steamer this is justifiable. It is more expensive however, than some of the Chinese made handheld steamers, which offer the same or better benefits as the Rowenta steamer.
It's really personal choice if you prefer to stick with well known brands or choose alternate lesser known brands. Click here to read more reviews on handheld steamers which include the lesser known brands for comparison.
Conair is another well known brand in small electric appliances, but the extreme steam garment steamer has mixed reviews.
Firstly, this is not to be confused with the Conair Extreme Steam Turbo (model number GS59 the latest version with dual steam outputs and model number GS38R, the previous version with a single steam output) which are two different products. Please see the next review below for the latest Turbo model.
This is the original Conair Extreme Steam handheld steamer (model number GS23N), available at Target.
This Conair clothes steamer has dual heat settings, which is pleasing to find in a handheld steamer. It also comes with all the attachments you need – creasing tool, soft cushion brush and fabric brush. It's great to see this all packaged together and nothing else to purchase.
The Conair Extreme Steam fabric steamer with dual heat offers 1100 watts of power. This isn't quite as good as the Rowenta Xcel Steamer featured above, but still decent when it comes to output of steam. Like Rowenta, the warranty on the Conair steamer is 1 year.
The Conair steamer also has a 3 meter power cord and will steam continuously for around 15 minutes. You can also pause the steam output, which is a handy option when you are in between garments. The Conair Extreme Steam fabric steamer is also available in Blue.
| | |
| --- | --- |
| PRO'S | CONS |
| Includes crease tool, fabric brush, soft furnishings brush | 1 year warranty |
| Dual heat settings | There is a newer turbo model available |
| Ability to pause steam output | |
Overall Impression of the Conair Extreme Steam Steamer:
The Conair Extreme Steam handheld steamer is a handy little garment steamer, which some people love, but others state doesn't work at all. Given it has dual heat settings, I have to question the negative reviews if they were using the correct heat setting?
There is also a newer, better model (The Extreme Steam Turbo) available now which is far superior to this model. Please see below where I discuss the turbo version.
I think the big name brands need to up their game when it comes to the warranties they are offering on their products. For me, the warranty on a clothing steamer is really important, particularly if the steamer is a significant cost. It shows the company is willing to stand behind their brand and essentially, it should be a quality product.
There are many handheld steamers which offer superior wattage, steam time and warranty to this Conair steamer. You can view my reviews of those products here.
I've also reviewed ALL the Conair Fabric Steamers in one blog post, which I hope you'll find useful if considering a Conair handheld steamer.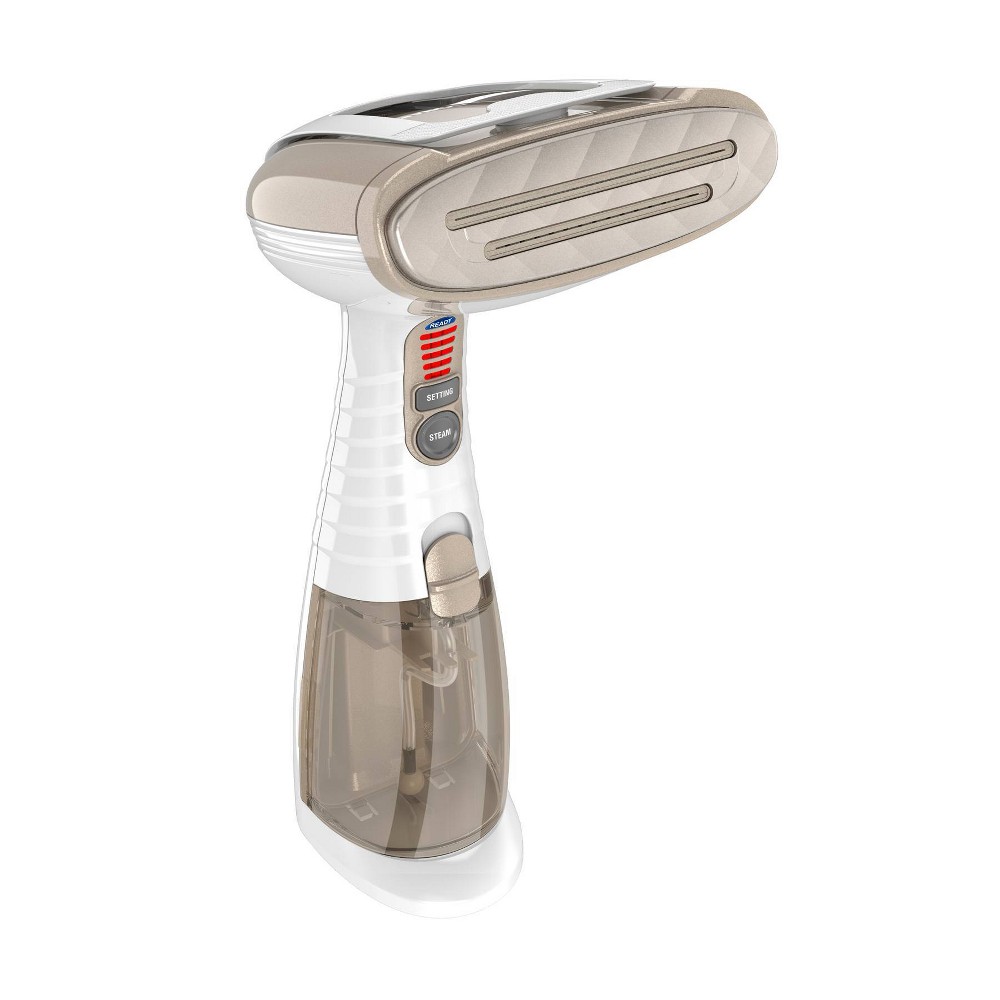 Conair have really improved the design with the Extreme Steam Turbo, in comparison to the original extreme steam handheld steamer featured above. This review is the latest model, Conair GS59 which has two steam output slots on the sole plate.
The Conair Extreme Steam Turbo now has a flat base and can stand upright when placed down. This is a similar design to the Rowenta handheld steamer. I was blown away when I saw the wattage on this handheld steamer – a whopping 1875 watts. This is the most power I have ever seen in a handheld steamer! I wanted one instantly!
It seems Conair have taken the approach with their competitors of anything you can do I can do better, and have designed this handheld steamer with 5 steam settings and two steam outputs. I don't really know if 5 steam settings are needed… one of my clothing steamers has three steam settings and this is enough choice for all fabrics. 5 could be a little overkill, but then again, this is the TURBO model. Everything about this handheld steamer seems to be on supercharge!
One of my biggest complaints about extra attachments that come with clothing steamers is there is no where to store them.
Conair have thought of this and built in the creasing tool. I really like the idea of a built in crease tool, but I have to question the practicality of it being on top of the steamer. The steam will be coming out the front of the steamer, but the crease attachment is above that – will there be enough steam to crease given it will be aimed behind the fabric?
As far as the other attachments go, Conair offer a silicone band, fabric brush and delicate fabric spacer.
The fabric brush helps to remove fluff and lint from clothing, and straightening out the fibers in fabric. The delicate fabric spacer keeps the steamer head from touching delicate fabrics. The silicone band is a new concept and I'm a little skeptical about this.
Essentially, when the silicone touches the fabric, it will grab the fabric and pull it taught, which helps to straighten fabrics. When I steam, I use a steaming mitt or glove on my left hand and hold the steamer in my right hand (as I am right handed). I use my left hand to hold the fabric taught as I glide the steamer over it.
Would I want silicone grabbing my fabric? I'm not sure. Would you then have to lift the steamer off your garment and move it down or is it smooth enough that it will glide and pull at the same time? I've tried to find the Conair GS59 Turbo Steamer here in Australia so I can test this out and give you all the best steamer review I can. It seems it's not available here yet (as usual!). I will keep you updated if I can get my hands on this steamer and test it out for myself.
Please keep in mind that the silicone band is an attachment. You can choose to leave this off your handheld steamer if you prefer, so if you don't like the pulling mechanism, don't use it. It is worthwhile to note that you can use the silicone band with the fabric brush, or the silicone band with the fabric spacing tool.
There is one review on Target where the consumer loved the Conair Turbo Steamer, but had issues with the water tank cracking – 3 times, on 3 different steamers. This seems to be isolated and perhaps a bad batch of containers, although worthwhile noting if you are considering purchasing this steamer.
As far as run time and water capacity goes, the Conair Turbo Extreme Steam runs for around 20 minutes. This will depend on what steam setting you use it on as well. As always, use distilled water in your clothing steamer to avoid calcification. Conair also recommend this.
| | |
| --- | --- |
| PRO'S | CONS |
| Mega 1875 watts for great steam output | 1 year limited warranty in USA & Canada |
| Includes attachments | Steaming Mitt sold separately |
| Adjustable steam settings | |
| Dual steam output | |
| Well known brand | |
| Use Horizontally and Vertically | |
Overall Impression of the Conair Extreme Steam Turbo:
I wanted to race out and buy the Conair Extreme Steam Turbo Fabric Steamer straight away, purely so I could test out the 1875 watts of power in a handheld steamer. At first glance I was impressed with the built in crease tool, but then I thought about the practicality of the positioning. The more I thought about the fanciness of the attachments for this steamer, the more questions I had.
If you consider the basics of the steamer it is a great product and I would purchase this. The wattage (which equals steam output) is very impressive, as is the run time and multiple steam settings. I'm always appreciative of included tools and the Conair Extreme Steam Turbo essentially has 4 tools instead of the usual 3. The stand up design is much better than previous models.
Conair are a well known brand in the USA (less so here in Australia for garment steamers, although their sister hair care brands are more well known). The big main letdown with the Extreme Steam Turbo, or Conair in general, is the poor warranty. 1 year is not enough for the price point or for such a reputable brand. But I've already had my rant about this.
To learn more about Conair Fabric Steamers, check out my blog post where I discuss ALL the different models, including the deluxe professional steamer and Conair extreme steam.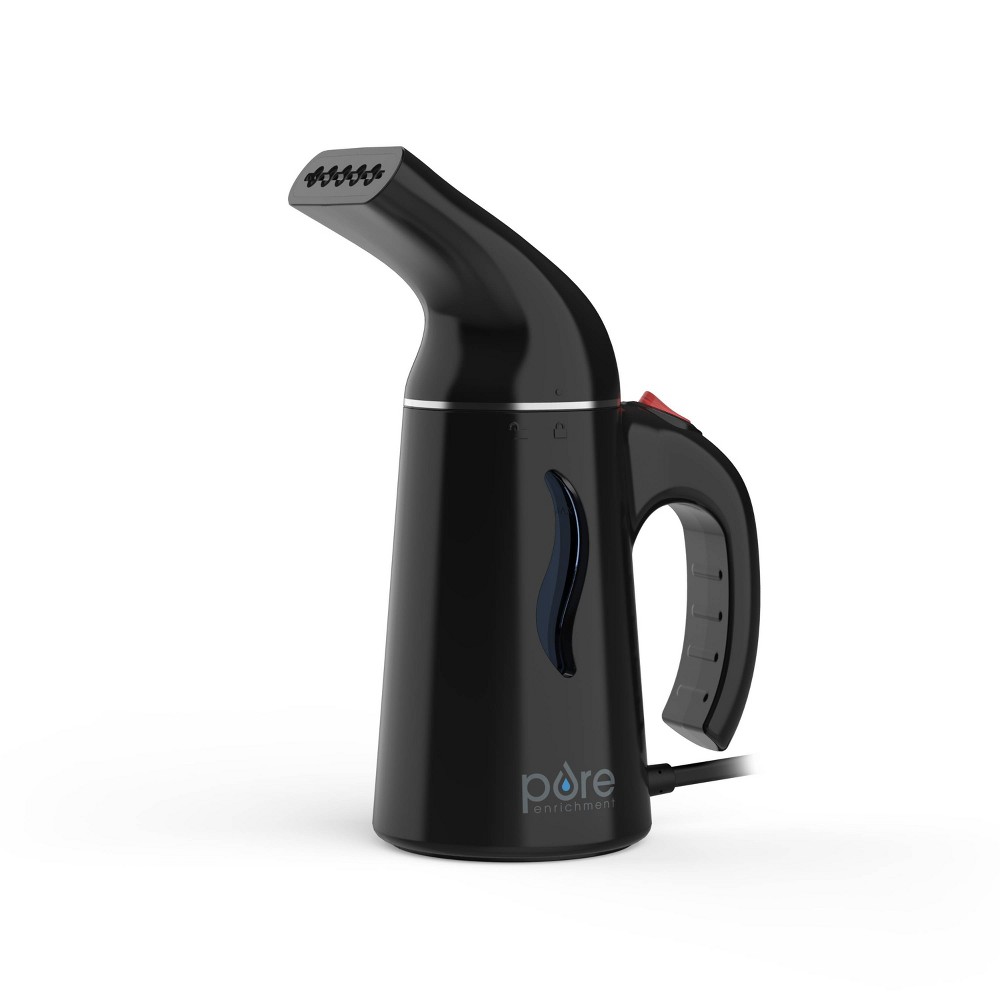 This portable steamer is one of the earlier designs where the shape of the nozzle directs the steam output for concentrated steam. It will heat up in under two minutes and steam for around 10 minutes. It also has an auto shut off function if you forget to turn it off.
You pour the water into this steamer by removing the nozzle from the top. If you're only planning on steaming in a vertical direction, this steamer is a good choice. Because it doesn't have a separate self contained water reservoir, the Pure Enrichment PureSteam Portable Steamer cannot be tilted any further than a 45 degree angle. This makes this fabric steamer unsuitable for use in a horizontal position, or on sheets or bed covers laying on the bed.
This steamer is compact and budget friendly. If you're in the market for a travel steamer just for clothing, this Pure Enrichment steamer will meet your needs.
| | |
| --- | --- |
| PRO'S | CONS |
| 2 Year Warranty | Cannot use horizontally (must be kept upright) |
| Concentrated Steam Nozzle Design | |
| Auto Shut Off Function | |
The Pure Enrichment PureSteam Portable Steamer is also available in white.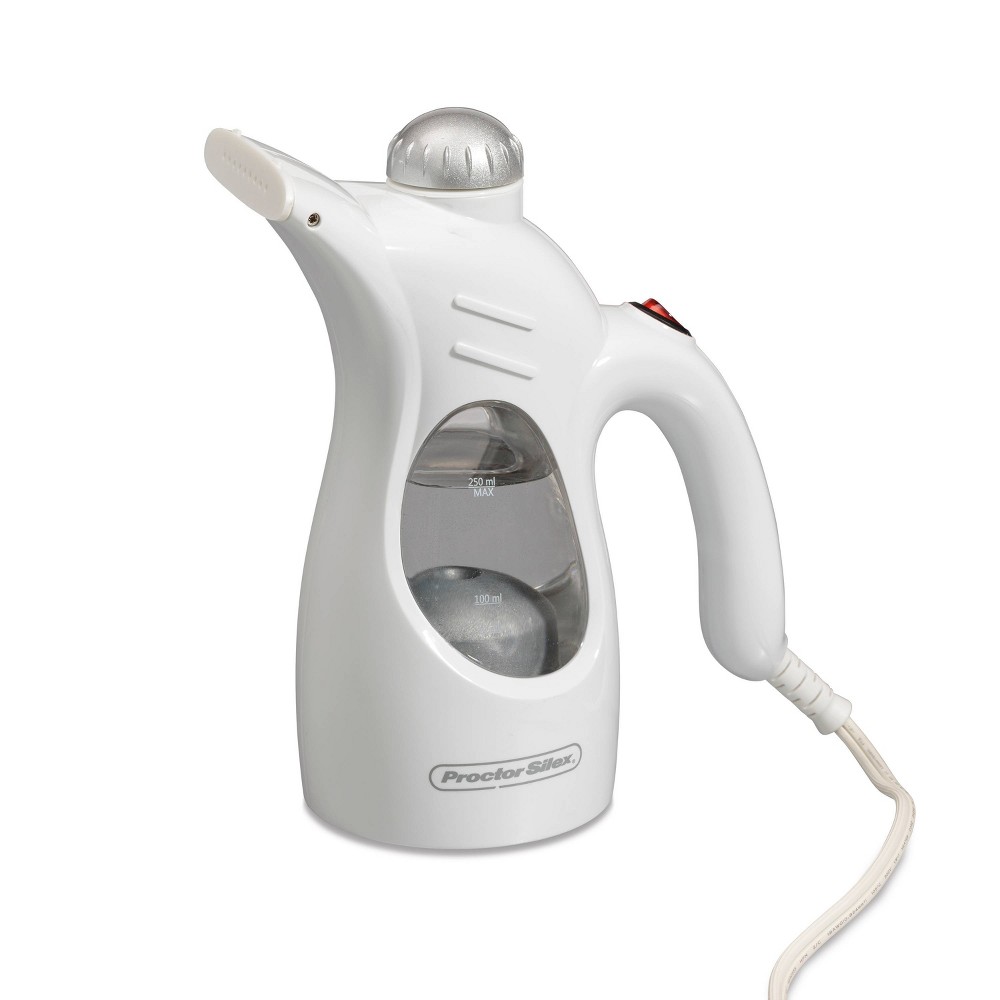 The Proctor Silex Steamer (model number 11579) is compact and lightweight, weighing in a just one pound. This garment steamer is most suited to those looking for a travel steamer, particularly if you are traveling overseas. The Proctor Silex Steamer can be used with both 120V and 240V power, however, you need to purchase an adaptor for 240V power separately.
Like the Pure Enrichment Steamer above, the Proctor Silex Steamer has a concentrated steam nozzle and combined water tank. Because of this design, the Proctor Silex Steamer is only suitable for use in a vertical position. The design of this steamer reminds me of a kettle and you can see the water boiling inside the reservoir. Perhaps you could make a cup of tea as well when you are done steaming your clothes!
I could find no information regarding wattage, steam time or warranty for the Proctor Silex Steamer. I did find that Proctor Silex and Hamilton Beach are part of the same company. As with Hamilton Beach, Proctor Silex show this portable steamer being filled up at the kitchen sink with tap water. It holds one cup of water (8.5oz), so it should run for around 10 minutes.
If you missed the link higher up in this post about why you should never use tap water in your clothing steamer click here to read this post.
The Proctor Silex Portable Steamer is cheap. If you're on a really tight budget you can consider this garment steamer, but please remember, you may get what you pay for.
PRO'S
CONS
Lightweight
No information on warranty
Dual Voltage Use
(with adapter purchased separately)
Can only be used vertically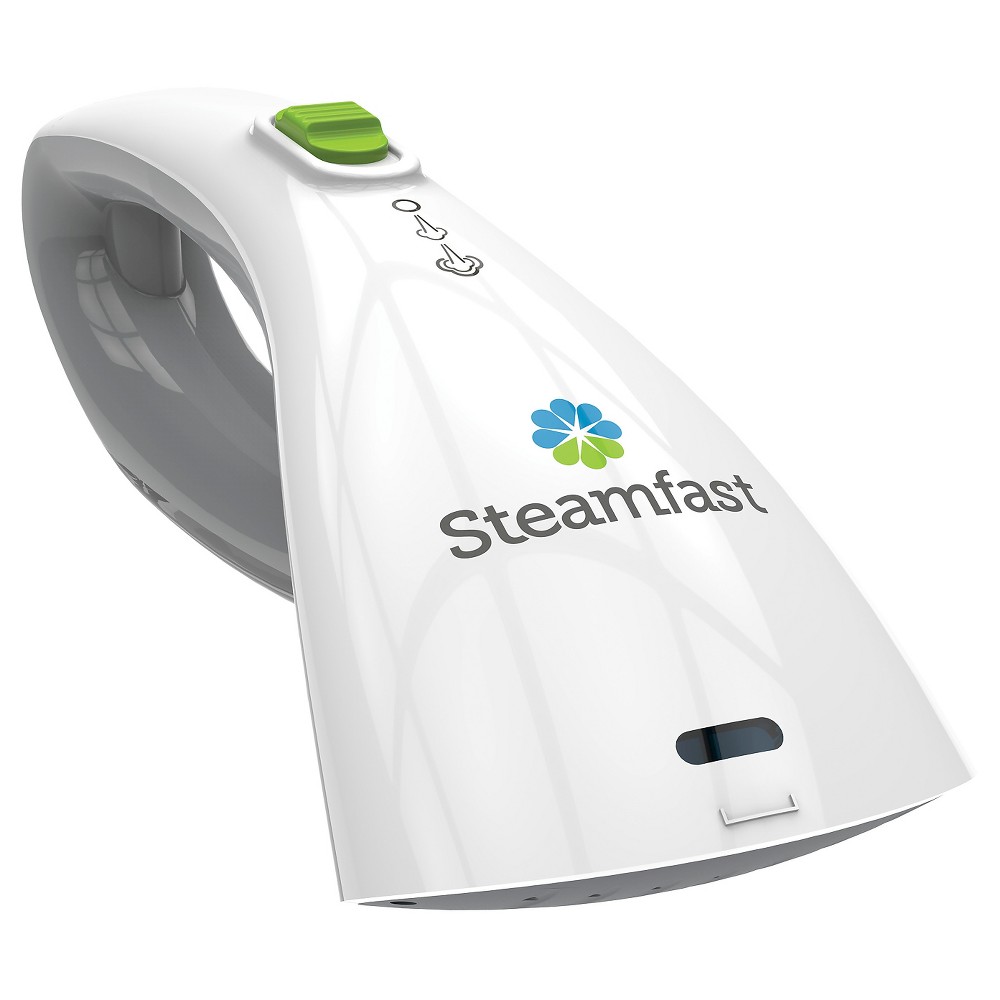 The Steamfast Handheld Steamer (model number SF-450) has an interesting compact and ergonomic design.
Suitable for use both horizontally and vertically, this Steamfast steamer has two steam settings for different fabrics. The water reservoir is small – at 3oz, which gives it a running time of 5 minutes before it needs refilling.
The ergonomic design, dual steam settings and ability to use horizontally is appealing, but I'm afraid a 5 minute steam time is not. Having said that, you can remove the water reservoir for refilling.
The output of steam is 1000 watts, making the Steamfast mini steamer less powerful than other clothes steamers available at Target. It heats up ready to steam in 30 seconds.
Overall this looks like a quality clothing steamer and is backed by a 2 year warranty – better than Rowenta and Conair. The short steam time is really the only thing that lets the Steamfast SF-450 handheld steamer down.
I'm may add this garment steamer to my list of best clothes steamers for college students. Whilst is not the best handheld steamer on the market, it has some good points and may suit someone who needs quick touch ups here and there.
PRO'S
CONS
Two steam settings
Small water reservoir = less steam time
2 year warranty
Less Powerful Wattage than other steamers
Can be used horizontally as well
as vertically
Ergonomic design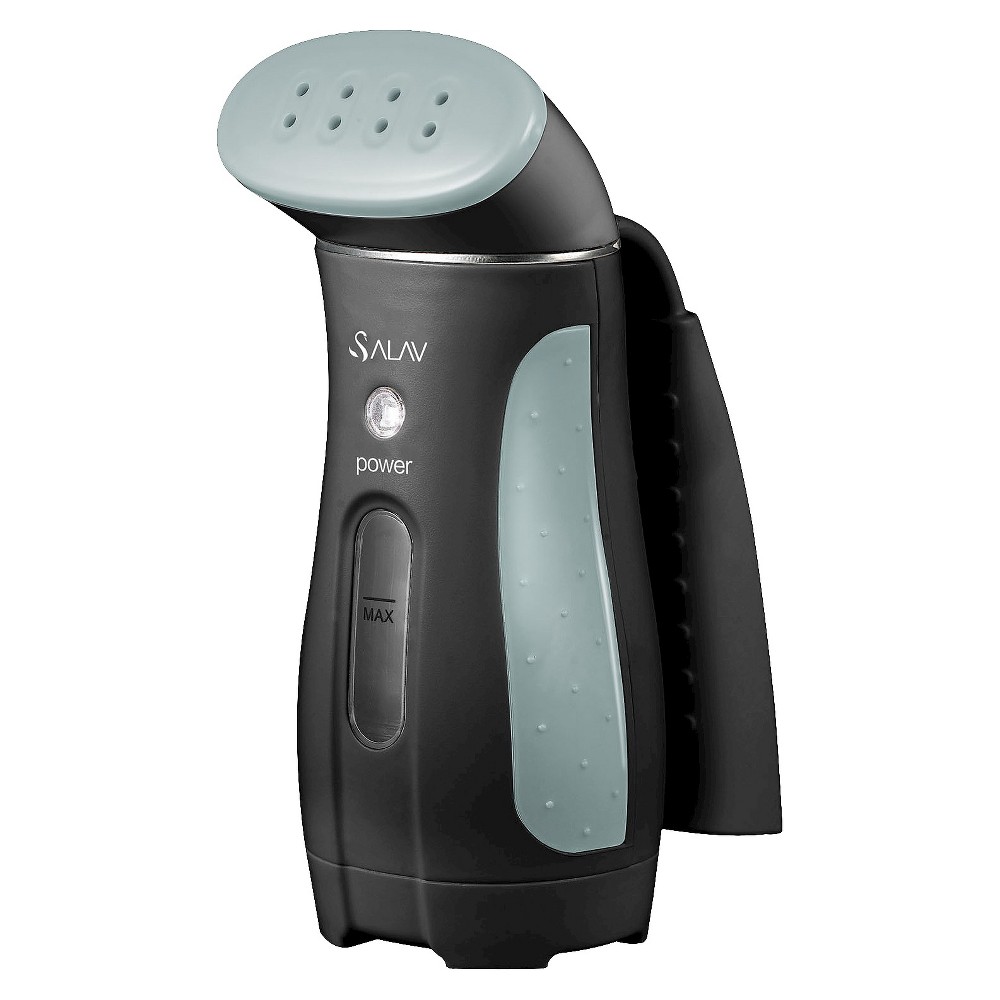 The Salav Handheld Steamer (TS-01) is a choice to consider if you are traveling overseas. This handheld steamer has a built in function to covert the steamer from 120V to 240V without needing an extra adapter. You will need a wall plug for the country you are visiting however, to plug the Salav Steamer into. They look like this:
Salav have given a lot of thought to the design of this handheld steamer, where the handle of the steamer doubles as a measuring cup for the water. It is available in a variety of colors, such as red, blue, pink and black (pictured above).
Salav also have backflow system (which they have patented) within the garment steamer to prevent water from spitting or pouring out when in use.
Salav promote the handheld travel steamer heats up in a "quick" 150 seconds. That's TWO AND A HALF MINUTES. Sorry Salav, that's not quick.
The water tank on the Salav Handheld Steamer holds 2oz. That's 60mls. I was wondering how it was possible Salav could promote their travel steamer would run for 10 minutes when it held a tiny 2oz of water, then I discovered the wattage. 250-265 watts of power.
For those of you who wonder why I focus on the wattage capabilities of every steamer, it is for this reason. At a maximum of 265 watts of power it's no wonder it takes two and a half minutes to heat up ready to steam. The steam output of a 265 watt Salav Travel Steamer would produce enough steam to steam your handkerchief.
If you wanted to steam a linen shirt or pair of jeans? Forget it.
| | |
| --- | --- |
| PRO'S | CONS |
| Overseas Travel Suitable (works with 120V & 240V) | Lacks wattage for decent steam output |
| Inexpensive at Target (very expensive at Salav) | Tiny water reservoir |
| Auto Shut Off Feature | |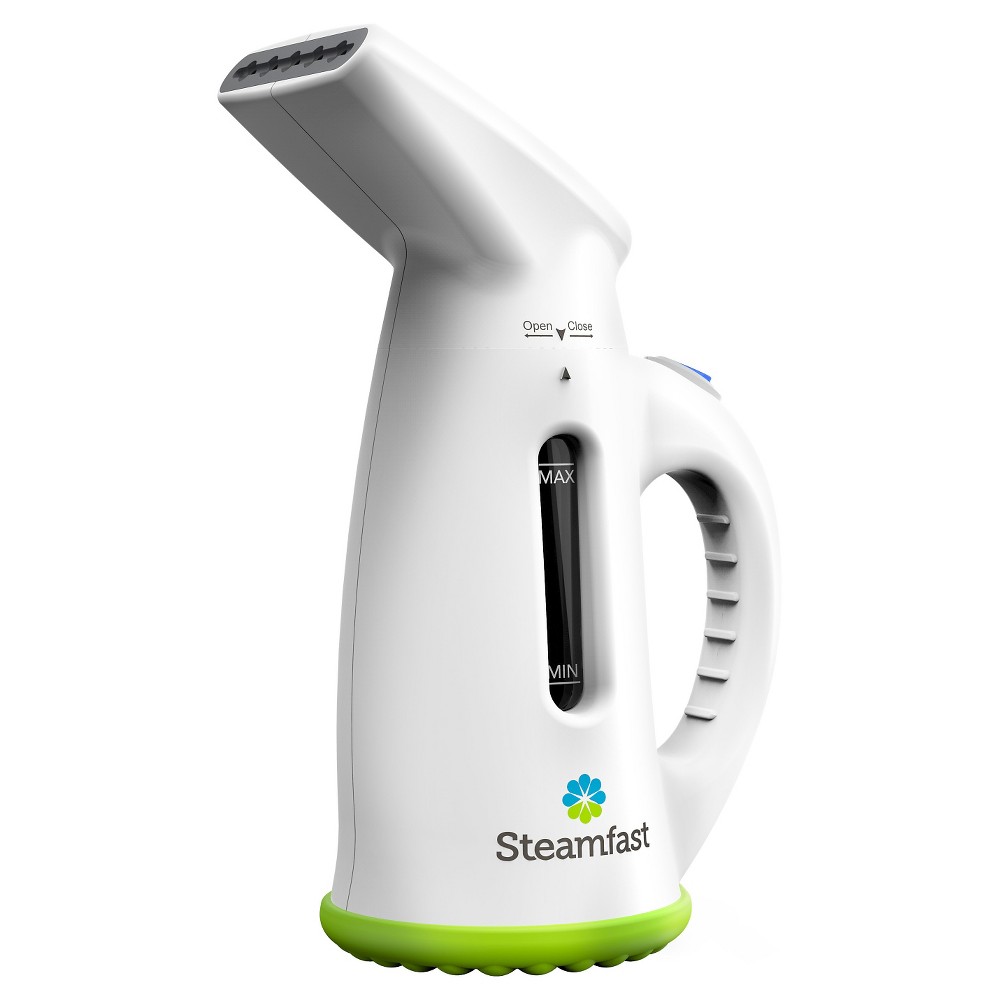 The Steamfast Steamer SF-445 is a compact garment steamer. With 800 watts of steam power, it heats up in approximately 2 minutes and will run for around 15 minutes.
In keeping with the ergonomic design of the portable steamers, the Steamfast SF-445 has a silicone non slip ring on the base to keep the fabric steamer standing firmly in place when placed down on the counter.
It holds 11oz of water, which is far more impressive than it's sister design mentioned earlier in this blog post. What lets this steamer down the most is the 800 watts of power. This won't produce as much steam as other handheld steamers on the market today.
800 watts of power is still a good output for steaming delicate items. This steamer may not work as well as other handheld steamers when it comes to steaming a pair of jeans, or a wool coat, but for steaming silk, chiffon and other lightweight fabrics the Steamfast steamer should work just fine.
If you don't mind combining ironing and steaming, and prefer to only use the steamer for delicate fabrics that could be burnt by the iron, consider this steamer.
It is also important to note that the Steamfast Steamer can only be used in a vertical position. The water reservoir is directly filled by twisting off the nozzle, therefore, you cannot tip this steamer past a 45 degree angle. It will spit, splutter and leak if you do.
PRO'S
CONS
2 Year Warranty
Less wattage = Less Steam
Output than other steamers
15 minute running time
Cannot be used horizontally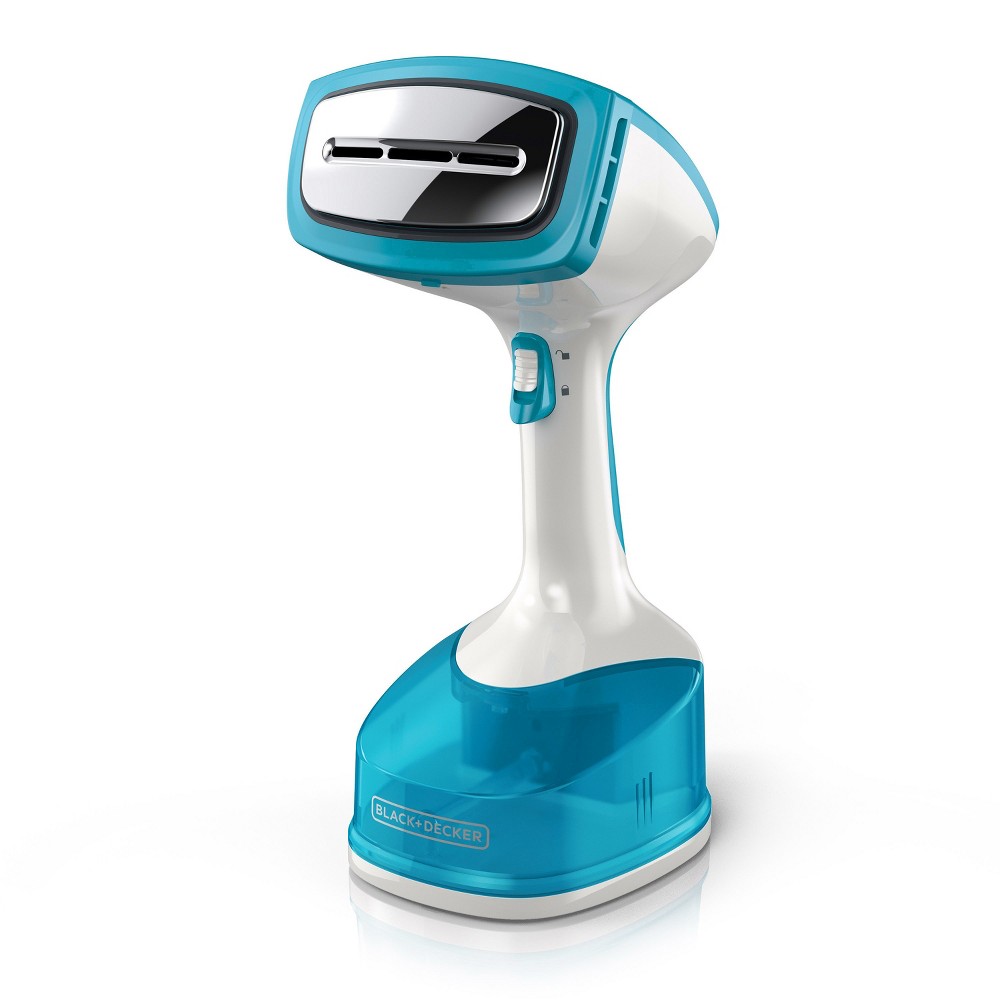 I think this might be the first time I've featured a Black and Decker Steamer on Best Garment Steamers! Black and Decker are quite well known in small appliances, but garment steamers, not so much.
Black and Decker promote this handheld steamer as a two in one style that can be used like an iron as well as a steamer. This is because the steam plate design pops out of the front of the steamer instead of sitting flush. You can see this in the image above. You can push it against your clothing to use like an iron to get out more stubborn wrinkles.
The Black and Decker Steamer has a trigger feature where you can hold your finger on and off the button for bursts of steam, or use the lock button for continuous steam.
Its steam output is quite impressive – at 1400 watts, this should give you an excellent output of steam. This is almost as much as a full sized clothing steamer and just under the Rowenta Xcel Handheld Steamer. The design is similar to the Rowenta Xcel Steamer as well, with a removable water tank.
The Black and Decker Steamer also comes with an attachment for delicate clothing. This is basically a mesh screen that clips on to the front of the steamer to give more distance between the steam plate and your clothing.
The Black and Decker Steamer heats up in 45 seconds and has an auto shut off function if you forget to turn it off. Unfortunately, no creasing tool or fabric brush are included with this steamer.
For its price point, the Black and Decker steamer is a good middle of the range handheld steamer and is backed by a 2 year warranty from Black and Decker. Black and Decker are also very responsive when it comes to their reviews, and offering solutions to any problems.
| | |
| --- | --- |
| PRO'S | CONS |
| 2 Year Warranty | No creasing tool, lint brush or fabric brush |
| 1400 Watts of Steam Power | |
| Long Power Cord | |
| Delicate Clothing Attachment | |
Essential Items for Use With Your Clothing Steamer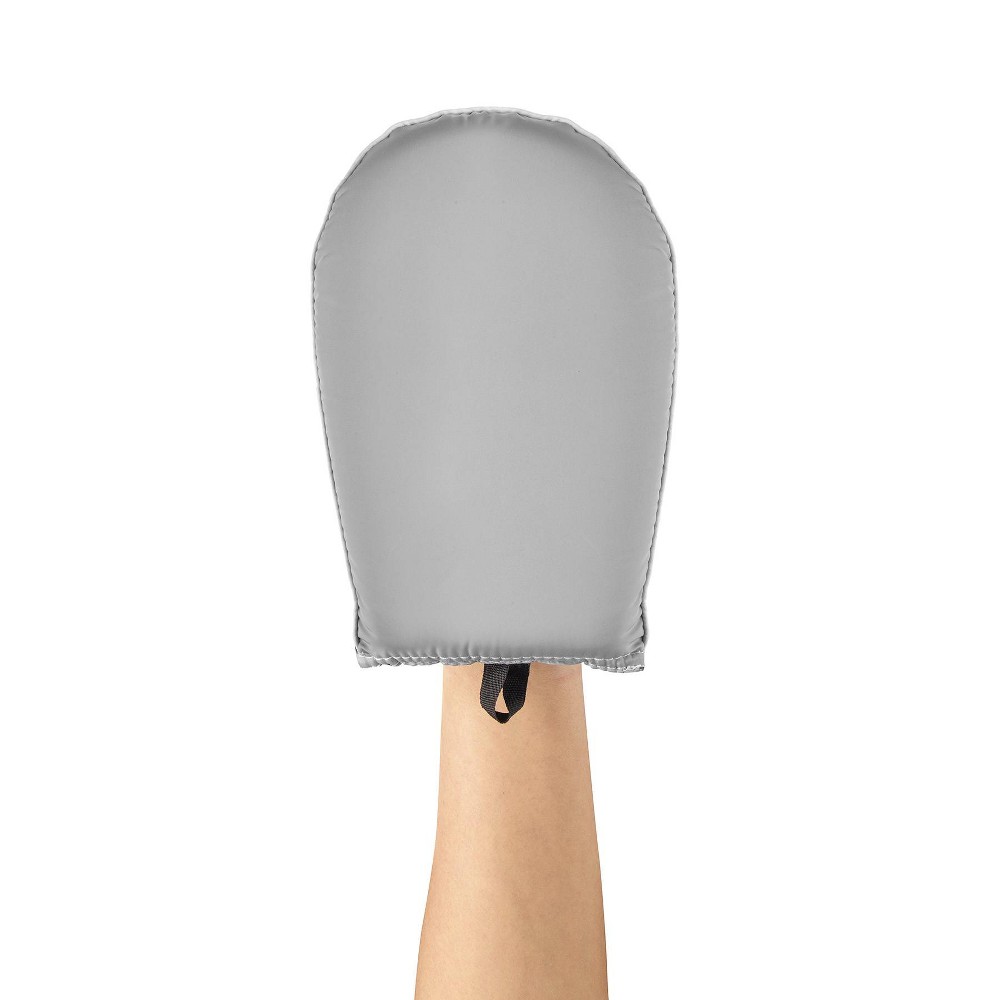 I've mentioned in the post above (and most posts on this site) that I use a glove or mitt when steaming. This really is inexpensive protection against steam burns, which can and do happen, no matter how experienced or careful you are.
I like the design of this mitt, as it has a mesh back where you place your hand and the padding is quite firm, so it doubles as a backing when you are steaming. It's particularly useful when steaming collars, cuffs and sleeves.
Optional Items for Use With Your Clothing Steamer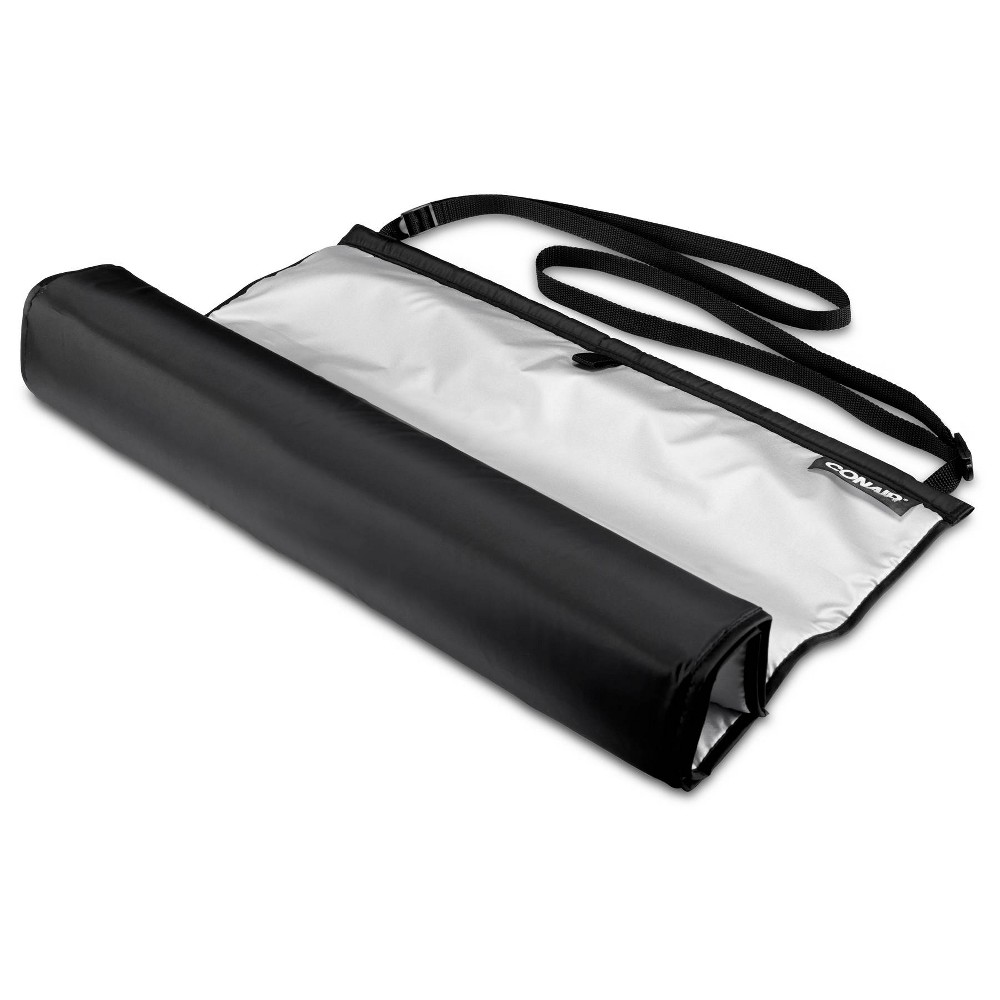 I almost didn't include the Conair Garment Steamer Door Pad in this post thinking it's probably not something anyone is going to use. But then I thought about the farmhouse that I live in, with its old style timber stained french doors and thought that if I was steaming up against one of these doors I'd want to protect both the door and my clothing. So here it is.
This could be good also if you're in a rental, or have the type of doors that aren't completely flat and tend to collect dust.
In a nutshell, this is a heatproof pad that includes a loop to hook your coat hanger through, to steam your clothes on the hanger. You loop the straps around the top corners of the door and roll out the pad. The straps are adjustable also, so you can hang the heatproof pad at different heights.
It looks most suitable for tops, blouses, cardigans and shorts. Pants or trousers I think would hang lower than the heat pad is in length. It's not essential, but available at Target along with the garment steamers mentioned in the post above. It certainly could come in handy if you like to steam your clothing against a door.
---
Clothes Steamer Reviews, Ratings & Advice
Hi, I'm Lauren. Passionate organizer, t-shirt folder and owner of both a commercial steamer and a home steamer. I'll discuss all things steaming, so if you're thinking of purchasing a garment steamer or steam iron, I'm hoping I can help you determine the best one for your needs. Please join me on social media, and don't hesitate to reach out if you have any questions! Happy Steaming!

---